Rahul Chaudhari is one of the most valuable kabaddi players at present in the Indian kabaddi team. His way of playing and defending is very unique. So far he has achieved more than 900 red points in this league and has established himself as one of the greatest redpoint achievers in the league. His speed and way of clearing defenders are really worth watching. The 'Running hand touch' is one of his favorite moves according to him and he uses it most of the time consistently and gets more and more mastering over it.
He has been quite busy these days appearing as the public attraction and interaction with them, sharing some of his special experiences during pro kabaddi. In one such interaction, he talked about his interaction with some seniors while practicing. He told him he was just in the right corner when he started playing kabaddi. He was selected to start his training in Gandhinagar. There in the training, he met with Mahipal Narwal and Manpreet Singh during the training session. According to him, he did not get many chances for training those times due to the presence of them there. He along with some other new companions used to sit there and watch them and others without doing much training.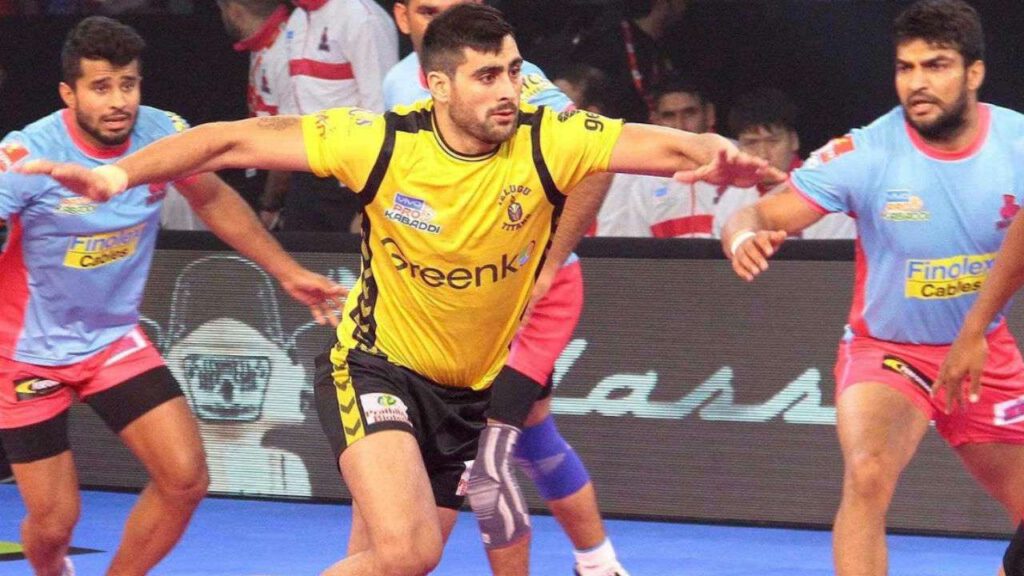 During those days he was very much influenced by Mahipal Singh. He said that Mahipal Singh was one of the greatest redders at that time. He used to use his lion jump technique very effectively and really he was a complete package for playing the kabaddi in my eye at least. He always inspired me and while watching them playing, he used to think that if he were also redder like him. He could too be eligible for getting the honor as he used to get.
That time his role was not more than just sitting and watching everything. Those days he was mostly used as the substitute player, however, this really influenced his career and whatever he is now, it is all because of those days.
According to him, when you mainly get selected as a substitute player, you need to run most of the time to keep you warm by a warm-up. This was so so that the coach could use him any time during the game. During that warm up the coach told him to practise running hand touch after opening the body. Therefrom he started practicing that, not just during warm-up but additionally also.
When he learned that completely, the coach taught him some other tactics. The coach taught him how to clear the defense by changing the direction and win some more points. It was the turning point for him. Therefrom he never looked back again.
His story really influences all the youngsters who want to make a career in this field. Once, you ever decide what to do in your career and you focus on that deeply, nobody can stop you to get what you want and deserve.